Fukushima has the most good Japanese Sake breweries in Japan for 7 years in a row.
7 years in a row is first ever thing in Japan!
We make special plan in commemoration of that!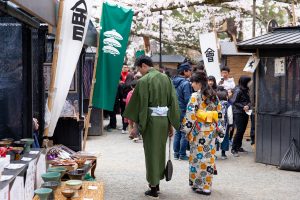 ◆Term
2019.06.02(sun)~2019.07.31(wed)  only Wednesday to Sunday
◆Price
7,300yen per person (usually 10,000yen)
(Without tax)
◆Conditions
・pairs
・Over 20 years old
◆Reception time
14:00~15:30
◆Returning time
By 9:30~12:00 on the next day
◆Dressing time
About 15 minutes
◆Includes
・ticket for glass of Sake
(only 1 ticket for pairs. You can choose sake whatever you like at restaurant.)
・Casual kimono or Yukata set
・Dressing kimono
※Set…Casual kimono or Yukata, obi sash, under garment, accessories, tabi socks, zori sandals, bag
There are 100 kinds of casual kimono patterns.
Restaurants where tickets can be used are・・・
●Izakaya Kagota (8-49, Sakaemachi, Aizuwakamatsushi/17:00~/closed on Sunday)
●Washoku Dining Kaguwa (2F, 4-12, Sakaemachi, Aizuwakamatsushi/17:00~/closed on Monday)
●Izakaya Ebisutei (1-26, Uwamachi, Aizuwakamatsushi/17:00~/closed on Sunday)
●Izakata Maizaka (1-19, Uwamachi, Aizuwakamatsushi/17:00~/closed on Wednesday)
●Restaurant la Raison (7-21, Nishisakaemachi, Aizuwakamatsushi/Dinner from 18:00/
Closed on Sunday and the first and third Saturday)
●Teppanyaki Aizuya (2-51, Nanukamachi, Aizuwakamatsushi/Dinner from 17:30/Dinner closed on Sunday and Monday)
●Ristorante  Papa Caldo (2-39, Nanukamachi, Aizuwakamatsushi/Dinner from 18:00/Irregular holiday)
◆Tsuruga's Recommendation
・Kimono rental for men and women
・No need to bring anything, all accessories needed are provided at our shop
・Approximate dressing time 15 minutes
・All our kimonos are insured, no need to worry about stains
・Credit card payment available